Mulțumim, eTwinning Romania!
Ne păstrăm și anul acesta, 2023_2024, titlul de Școală eTwinning🏆.
👏 Mulțumiri tuturor membrilor comunității noastre școlare care cred în:
🇪🇺 conducere colectivă;
🇪🇺 colaborare și muncă în echipă;
🇪🇺 capacitatea copiilor de a acționa;
🇪🇺 incluziune și inovare
🇪🇺 calitatea de model pentru alte școli;
🇪🇺 copiii din clasele eTwinning sunt vectori ai schimbării.
Elementele definitirii ale grădiniței noastre ca Școala eTwinning.🏆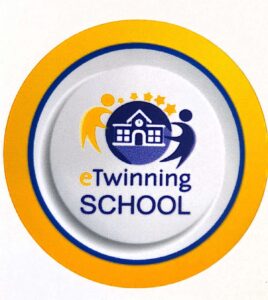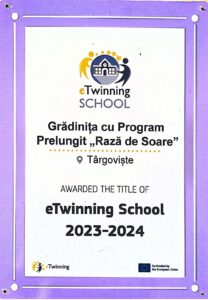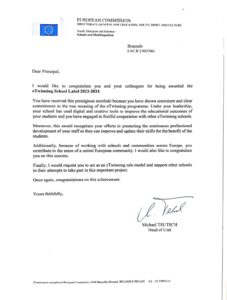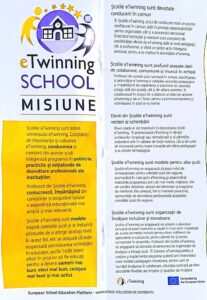 To the future with our values
Educația pentru valori joacă un rol foarte important.
Scopul proiectului – dezvoltarea personalităților copiilor, dezvăluind laturile lor bune. Prin activitățile desfășurate au fost promovate valori precum iubirea, respectul, onestitatea, solidaritatea, cooperarea, unitatea, patriotismul, curățenia, intimitatea, răbdarea și responsabilitatea.